Forest Row Film Society presents Federico Fellini's "La Strada"
Event Navigation
La Strada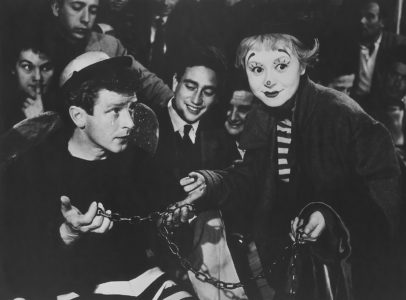 Friday, 22 September 2017, 20:00
Director: Federico Fellini, Italy 1955, 115 mins, PG
"One of the most influential films ever made" American Film Institute
Fellini drew on his own circus background for this classic film, which was remastered in 2017. Set in a seedy travelling carnival, it revolves around brutish strongman Zampano, his girlfriend Gelsomina, and clown Matto. La Strada has won over 50 international awards, and consistently appears on "best films" lists. It has influenced innumerable artists, including Bob Dylan, and is Pope Francis' favourite film.
"The movie that perhaps I loved the most" Pope Francis
Trailer
Prices
Annual membership: £6/£5 (concessions)
Members' admission to each film: £6/£5 (concessions)
Day membership (ie ticket price if you turn up on the door): £7/£6 (concessions)
Special prices apply to some screenings.